Contrary to some experts' advice, I did not create a separate partition for Home.
The size depends on what you store there.
I have a separate large capacity SSD and multimedia files are kept there to keep Home compact.
It is a bit old page, but you might find the information useful:
Can you show me the result of Gparted?
I am afraid your installation is not on the primary partition. It is "trapped" inside "logical" partition.
This makes manipulation of directory very difficult if not impossible.
My daughter-in-law did this with her Mint Linux, and after many hours I spent to fix it, we ended up clean install.
On this forum @Alpha-Craft had this situation and he also did a clean install at the end.
I also think 120 GB is not enough unless you segregate bulky files to another disk.
Ok but how it is possible ? You want sayed Zorin must be installed manually not installation automatics?
That was the question I faced and could not answer when my daughter-in-law managed to install Mint this way. Being an absolute beginner, she just followed the instruction and ended up this complex installation scheme.
I will ask @Aravisian how this logical partition trap can happen during the installation.
I checked on Zorin webside about help installation, There is simple procedure just create boot usb and then just click and install.
This installation what i understand both root and home are together sharing.
My suggestion is to format drive to GPT

Do you have only Zorin os or windows also ?
Automatic install will install everything on one partition plus boot partition.
If you want separate HOME partition, you need to choose manual installation
I have only Zorin on this hard disk but one game from steam have 30GB. Then 55GB Zorin? Still I have near 27GB free space. Gparted free space showing that. Then this installation is bad and need a created manually. This is not be a guide on main webside Zorin installation for people who start learning a Linux - manual is best option?
I will tell you what I did for my daughter-in-law.
I booted into live session and used Gparted to completely format the target disk then started installation. This way you can be sure that there is only a primary partition.
This hard disk for operative system was empty and it is usb external hard disk with port - usb C. There isn't any option with operative system never before was installed. Installation was going with Rufus. Then choose a language,zone and hard disk to take installation. This is what I remember. Installation automatic created this partitions without any my help modofication partitions.
I can used another hard disk bigger 500GB but this is not ssd and I could be worried he not will be so fast or will be. :))
So it is idea a copy this partition and put to bigger root partition?
That depends on you..for what you need Linux .
Basically for normal user, automatic installation is just more than enough
It's a very good question. There is much about the Ubiquity installer that I do not understand.
But the resolution is simple, as you say. Using the 'Something else" option, set the partition, set the mount point and install. Sadly, this does require re-installing Zorin OS.
So how this two partition are connected together?
On gparted I have boot/efi
ext4 /root
and extended what is it the same what home for me this is weird no capacity but root partition sayed I have 31.92GiB free place. Then how it can sayed me I don;t have a space? Where is the problem if I go with installation automatic from Linux Zorin. Then something not should be fixed? It is some warning capacity? I don't understand.
Bourne!
This is how my Zorin OS 16 installation is, on my SSD drive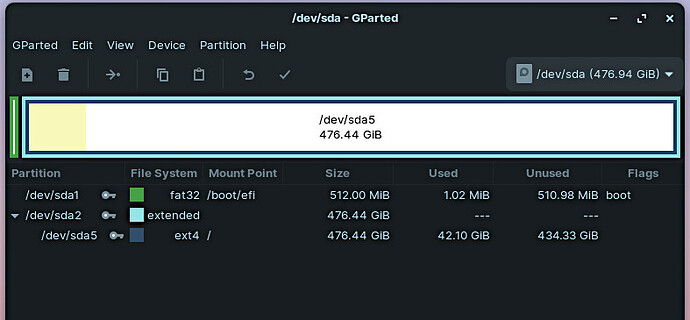 Now, I have to get ready for work, and won't be back at my computer for hours. But I just wanted to get this to your attention as quick as possible, in hopes that seeing this, might help you.
Show and tell time


This is mine.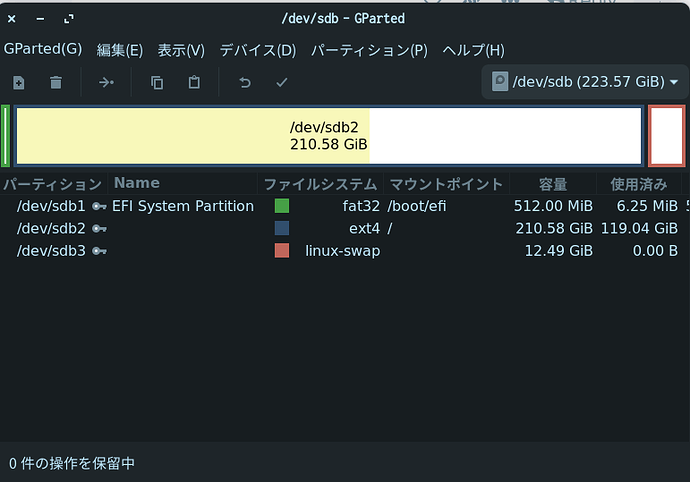 @StarTreker
How come you are using extended partition instead of primary?