I installed Zorin Lite alongside Windows 10 before a couple of days. Yesterday, when my system was idle for some time, the system went to sleep mode. After logging back in, the screen was frozen (I think the system was stuck in some process). I somehow managed to turn off the system. After turning in, I see the following error for update-notifier in panel:



It says this: "A problem occurred when checking for the updates."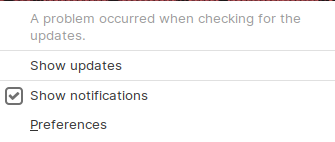 Clicking any of the buttons doesn't do anything. What's happening here can someone please help?