What Is Your Favorite Package Manager & Why?
Software Store
Synaptic Package Manager
Terminal
Other ???
My favorite package manager is Synaptic!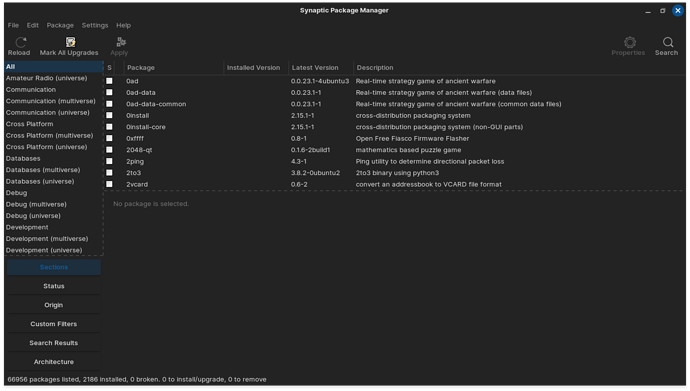 (1) Synaptic is more powerful then the software store.
(2) Synaptic has more software and libraries available to it from the REPO, over the software store.
(3) Synaptic makes it fairly easy to search for software and dependencies.
(4) Synaptic allows me to install and remove software.
(5) Synaptic allows me to fix broken packages.
(6) Synaptic allows me to put locks on software that I do not want to update, such as newer kernals.


(7) Synaptic provides a good description of what software is, better then the software store would, and it would be difficult to find such information via the Terminal method.
(8) Synaptic has its own software update method built in, so you don't have to rely on your built in OS updater if you don't want to.
(9) Synaptic also allows you to manually install downloaded packages.
(10) Synaptic requires your password to use it, which keeps it safe from unwanted kids in your family messing up your software installations lol.