Opening this Topic to adress the Wifi/Bluetooth not working commented on the original Topic related to my Zorin OS installation. hub-8-0-1-0-config-failed-hub-doesnt-have-any-ports-err-19.
Here are some info about my setup:
OS information cat /etc/os-release
NAME="Zorin OS"
VERSION="16.3"
ID=zorin
ID_LIKE=ubuntu
PRETTY_NAME="Zorin OS 16.3"
VERSION_ID="16"

Kernel information uname -r
6.3.13-060313-generic

(NOTE: Wifi/bluetooth does not work with kernel 5.15 as well)
Motherboard information sudo dmidecode -t 2
Base Board Information
	Manufacturer: ASUSTeK COMPUTER INC.
	Product Name: TUF GAMING A620M-PLUS WIFI
	Version: Rev 1.xx

BIOS version: latest version 1811
Network information lshw -c network
 *-network UNCLAIMED
       description: Network controller
       product: MEDIATEK Corp.
       vendor: MEDIATEK Corp.
       physical id: 0
       bus info: pci@0000:08:00.0
       version: 00
       width: 64 bits
       clock: 33MHz
       capabilities: pciexpress msi pm cap_list
       configuration: latency=0
       resources: iomemory:fc0-fbf memory:fc20300000-fc203fffff memory:fcb00000-fcb07fff

Settings return message No WI-FI Adapter Found as image bellow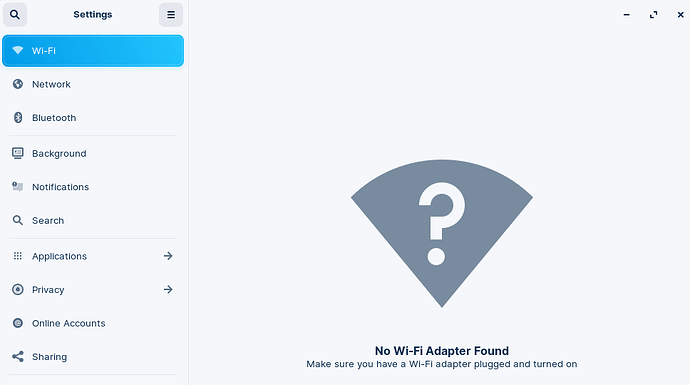 As for Bluetooth, it won't turn on.