Well, as the title states it, I've decided to jump ship from Windows 11 to Zorin OS 16.2 for a change just to see how good the experience is!

[Do bear in mind though, that this is just as a "trial basis"; I will most likely jump back to Windows 11 after a few months or so if this doesn't work out.] So far, the experience hasn't been too bad given that I've tinkered somewhat with Linux before, but I am FAR from an expert on it since I don't normally daily drive it. For anyone curious, this PCPartPicker link contains all the components for my entire pc setup: https://pcpartpicker.com/list/t232Y9 Anyway, back to the topic, I have some general/random questions after getting it installed & hope someone here can help me sort these issues out.

Question #1: I was trying to adjust the refresh rate & under the display settings, there isn't yet an option to do so. Upon doing a Google search, you can use xrandr to determine your screen resolution & refresh rate, etc. Now, right off the bat, I KNOW my display can do 2560x1440 @ 144 Hz. And under my display settings, it DID pick up the right resolution by default, but I seem to be running at the incorrect refresh rate. [After running the command in the Terminal, it says: "Failed to get size of gamma for output default" & I don't know what the solution for that is here since I only use 1 monitor anyway.
Question #2: I am not entirely sure if my settings are right... I'd appreciate it if someone can confirm for me after viewing these screenshots: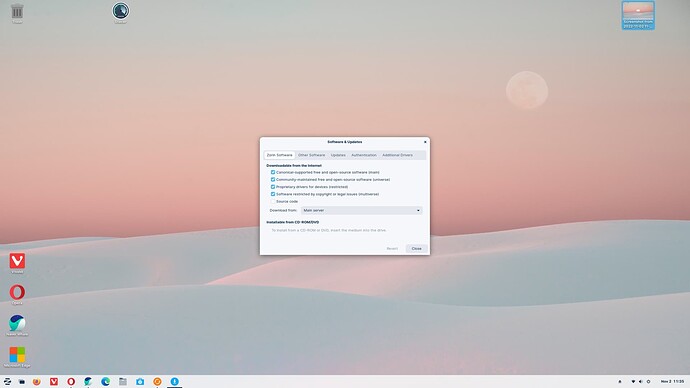 Question #3: When I try to view my graphics settings via Nvidia X Server Settings, it will open, but I'm not seeing ANY of the settings! Perhaps it has to do with the graphics driver I'm running or something?
With that being said, is it possible the Nvidia Control Panel can be installed on Linux?
Question #4: Does anyone here know of an app or something that can control RGB lighting on motherboards? I don't really use my system RGB much like at all, but I normally like to keep it off for the most part.
Anyway, those are the questions/topics I came up with. [May or may not have more later on.] But anyway, if any of you happen to have questions for me or need more details, feel free to ask & I will be sure to reply back!

Thanks in advance to whomever can help!