As users look to Cinnamon and even to Mate desktops, they must also contend with the Zorin OS default themes not fully working on them.
Until now...
Starting at the first of the series (I will make each theme)
Zenith Blue-Dark for Cinnamon or Mate desktops on Zorin OS 15 or Zorin OS 16.
This includes the Metacity Window Borders (I styled them to close no matter how far you jam the pointer into the corner per comments made by a few users requesting that in Gnome and XFCE).
Cinnamon panel and Desktop theme.
Cinnamenu and StarkMenu are automatically themed in, as well.
Mate Menu, Mint menu, Advanced Mate Menu and Brisk menu.
This Does Not Include the gtk theme - As you are using Zorin and Zorin comes with the Zorin-Blue-Dark theme... Use Zorin-blue-dark on the setting for controls. This package contains only the Metacity and the Cinnamon themes. (This is because the Zorin Themes are Zorins, and I was not willing to duplicate them and include them in my repository).
Use Zenith Blue-Dark for the metacity Window Borders and for the Cinnamon Desktop Theme.
Of course... I could not resist adding my own touch to the style...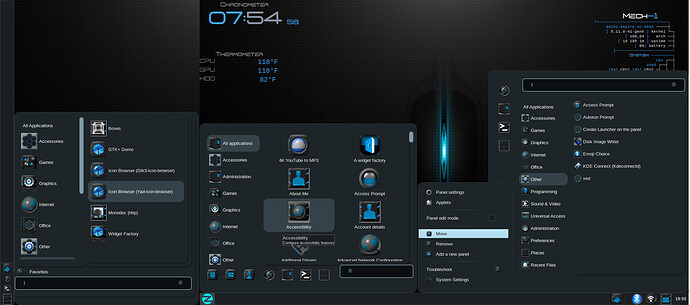 To Install:
sudo add-apt-repository ppa:aravisian/gtk-theming
sudo apt update && sudo apt install zenith-blue-dark
The rest will follow as I make them...
And please alert me to issues or bugs or something I missed...